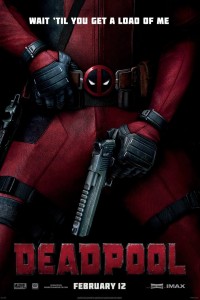 WE MUST HAVE A NEW AWAKENING
"Deadpool" opened with a $135 million dollar record crushing "R" rated movie weekend, on Valentines weekend no less.
Christians should always "know before you go" by reading movie reviews and parental guides that tell you the inside story of what you are about to open your spirit up to.
Ps 101:3 "I will refuse to look at anything vile and vulgar."
www.MovieGuide.org is one such source I turn to for the inside scoop. It calls Deadpool "abhorrent."
Besides sex, nudity, violence and gore, movie goers got treated to about 84 F-words and its derivatives, 3 obscene hand gestures, 21 sexual references, 34 scatological terms, 19 anatomical terms, 8 mild obscenities, 2 religious profanities, and 9 religious exclamations.
Does the success of this movie reflect the loss of morals in our society, or do movies of this nature condition us to tolerate and even accept todays anti-morals, anti-God, secular revolution? In both cases we are presented with a "state of our union" that must surely be what the Bible refers to as "perilous times."
Sadly, Christians may have helped contribute to the success of this movie. What does this say about the state of Christianity in America when a "Christ-follower" can willingly pay for a bath in profanity, etc, and still feel okay about it? Even enjoy it?
Jesus never said "only believe." He said "repent and believe."
Mark 1:15 "The time promised by God has come at last!" he announced. "The Kingdom of God is near! Repent of your sins and believe the Good News!"
True repentance always means a change of direction and lifestyle. Making Jesus Lord means following Him, not the world.
I am praying for another Great Awakening in our nation that will rescue this generation. God is able. It's not too late.
Join me daily for 10@10 – ten minutes of daily prayer at, or around 10 AM in your time zone, to pray for national, regional, local, and personal revival and awakening in our generation.
2 Chron 7:14 "Then if my people who are called by my name will humble themselves and pray and seek my face and turn from their wicked ways, I will hear from heaven and will forgive their sins and restore their land."
https://www.movieguide.org/reviews/deadpool.html