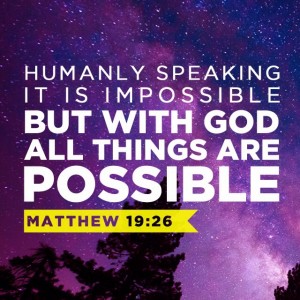 WITH GOD EVERYTHING IS POSSIBLE, Pt. 2 of 2
Understanding The Nature of Salvation
3-13-16
Pastor George W. Black
Confession: I am a victorious believer, redeemed by the Lord, washed from my sins in the blood of Jesus my Savior, saved by grace through faith, filled with the powerful Holy Spirit, poised for God's eternal purposes, and boldly sharing the joy of God's love, with my world.
I am a faith walking, Word talking, over-comer in this life. I am a Victor, not a victim. I can do, all things through Christ. Today, my mind is open and alert, and my heart is good soil, for the seed of God's Word.  I will be a diligent disciple, to apply its' truths, for from this day forward, by the miracle of spiritual growth, I will never, ever, be the same again.
OPENING SCRIPTURE:
 Matthew 19:16-26  "Someone came to Jesus with this question: "Teacher, what good deed must I do to have eternal life?" 17 "Why ask me about what is good?" Jesus replied. "There is only One who is good. But to answer your question—if you want to receive eternal life, keep the commandments." 18 "Which ones?" the man asked. And Jesus replied: "'You must not murder. You must not commit adultery. You must not steal. You must not testify falsely. 19 Honor your father and mother. Love your neighbor as yourself.'" 20 "I've obeyed all these commandments," the young man replied. "What else must I do?" 21 Jesus told him, "If you want to be perfect, go and sell all your possessions and give the money to the poor, and you will have treasure in heaven. Then come, follow me." 22 But when the young man heard this, he went away sad, for he had many possessions. 23 Then Jesus said to his disciples, "I tell you the truth, it is very hard for a rich person to enter the Kingdom of Heaven. 24 I'll say it again—it is easier for a camel to go through the eye of a needle than for a rich person to enter the Kingdom of God!" 25 The disciples were astounded. "Then who in the world can be saved?" they asked. 26 Jesus looked at them intently and said, "Humanly speaking, it is impossible. But with God everything is possible."
The nature of salvation is it is a free gift. We can't earn it, but we do have to receive it.
To receive a gift from another person, we have to be willing to receive it. If I extend a gift to you and you don't reach out and take it into your hands, you have chosen not to receive it. The same is true with salvation. If God offers us salvation, but we do nothing to reach out and welcome it into our lives, we have chosen not to receive it. A gift may be free, but it does not enter our life until we are willing to make it our own.
Ephesians 2:8 NKJV "For by grace you have been saved through faith, and that not of yourselves; it is the gift of God, 9 not of works, lest anyone should boast."
Ephesians 2:8 NLV "For by His loving-favor you have been saved from the punishment of sin through faith. It is not by anything you have done. It is a gift of God.9 It is not given to you because you worked for it. If you could work for it, you would be proud."
Jesus wants to save all the lost places in our lives, not just take us to Heaven.
Jesus has come to seek and save the lost, and that which is lost in us. Every one of us bring a broken life to Christ when we are born-gain. Even after our sins are forgiven and we start living our new life in Christ, Jesus is working to heal our brokeness. We are like the clay on the potter's wheel. He is molding and shaping us into His own image. This includes healing and deliverance where we need it.
Luke 19:9-10 NKJV "And Jesus said to him, "Today salvation has come to this house, because he also is a son of Abraham; 10 for the Son of Man has come to seek and to save that which was lost."
Receiving the Baptism in the Holy Spirit is a part of your complete "salvation" package.
The Bible teaches that born-again believers were never meant to try to live the Christian life without the power of the Holy Spirit. The Baptism in the Holy Spirit is an empowerment or "endument" that is subsequent to being born-again and water baptized, and is promised to us. However many are not taught about this gift and live a life of repeated rededication seeking God's fullness.
Acts 2:38-39 NKJV "Then Peter said to them, "Repent, and let every one of you be baptized in the name of Jesus Christ for the remission of sins; and you shall receive the gift of the Holy Spirit. 39 For the promise is to you and to your children, and to all who are afar off, as many as the Lord our God will call."
Once I place my trust in Jesus Christ through repentance, faith, and obedience, I am a "forever" child of God.
Becoming a child of God does not make us perfect, but it does plant a perfect seed of the Father's nature in us that begins a process of becoming like Christ. The direction of our life changes, and even when we make mistakes, we continue to seek God's grace and strength to make changes and continue growing in our faith and obedience.
Hebrew 5:9 NKJV "And having been perfected, He became the author of eternal salvation to all who obey Him, 10 called by God as High Priest "according to the order of Melchizedek,"
John 10:27-29 NKJV "My sheep hear My voice, and I know them, and they follow Me. 28 And I give them eternal life, and they shall never perish; neither shall anyone snatch them out of My hand. 29 My Father, who has given them to Me, is greater than all; and no one is able to snatch them out of My Father's hand."
Jn 5:24 NKJV "Most assuredly, I say to you, he who hears My word and believes in Him who sent Me has everlasting life, and shall not come into judgment, but has passed from death into life."
"Eternal Salvation" and "Eternal Security" do not mean the same thing. The first means we are saved forever as long as we want to be saved; the second means we can never be lost again no matter how we live our lives. The Bible does not teach "Eternal Security."
There are no perfect Christians. But every truly born-again Christian has a new nature that wants to be like its Father. This means we have a deep conviction of sin, righteousness, and judgement. For a Christian to continue in habitual sin, there are only two possibilities: either we have never truly repented of our sins and had a spiritual new-birth, or we have consciously and knowingly rejected our salvation and thereby committed what is called "blasphemy of the Holy Spirit."
Let me be quick to state that if this latter explanation is possible, it would be very difficult. Before a person could ever walk away from and "lose" their salvation, the Holy Spirit will do everything in His power to prevent this from happening. But if we continually harden our hearts against Him, our conscience can become seared to the point we no longer feel conviction for our sins. At this point we will have crossed the line and "blasphemed" the Holy Spirit by our rejection of Him. It is this point that the following Scriptures seem to explain.
Hebrew 6:4-8 NLT "For it is impossible to bring back to repentance those who were once enlightened—those who have experienced the good things of heaven and shared in the Holy Spirit, 5 who have tasted the goodness of the word of God and the power of the age to come— 6 and who then turn away from God. It is impossible to bring such people back to repentance; by rejecting the Son of God, they themselves are nailing him to the cross once again and holding him up to public shame .7 When the ground soaks up the falling rain and bears a good crop for the farmer, it has God's blessing. 8 But if a field bears thorns and thistles, it is useless. The farmer will soon condemn that field and burn it."
2 Peter 2:20-22 NLT "And when people escape from the wickedness of the world by knowing our Lord and Savior Jesus Christ and then get tangled up and enslaved by sin again, they are worse off than before.21 It would be better if they had never known the way to righteousness than to know it and then reject the command they were given to live a holy life. 22 They prove the truth of this proverb: "A dog returns to its vomit." And another says, "A washed pig returns to the mud."
The nature of salvation is that we are saved for a grand and glorious purpose that only begins when we repent of our sins and receive Jesus Christ as our Lord (Leader, Boss, CEO) and Savior. This grand purpose has no end and is the reason we exist.
God has a GREAT BIG PLAN that begins with salvation through the new-birth. However, becoming a Christian so you can go to Heaven when you die is not the full spectrum of salvation. God wants to put Heaven into our lives right now through a rich and fulfilling plan. Jesus said He came that we might have life, and have it more abundantly. Jn. 10:10. Your inheritance in Christ begins the day you receive Jesus Christ as your Lord and Savior, not just when you die.
Ephesians 2:4-10 NLT "But God is so rich in mercy, and he loved us so much, 5 that even though we were dead because of our sins, he gave us life when he raised Christ from the dead. (It is only by God's grace that you have been saved!) 6 For he raised us from the dead along with Christ and seated us with him in the heavenly realms because we are united with Christ Jesus. 7 So God can point to us in all future ages as examples of the incredible wealth of his grace and kindness toward us, as shown in all he has done for us who are united with Christ Jesus. 8 God saved you by his grace when you believed. And you can't take credit for this; it is a gift from God. 9 Salvation is not a reward for the good things we have done, so none of us can boast about it. 10 For we are God's masterpiece. He has created us anew in Christ Jesus, so we can do the good things he planned for us long ago."
What Is The Nature of Salvation?  WITH GOD EVERYTHING IS POSSIBLE!