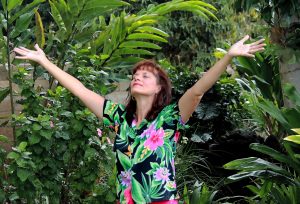 "HOPE ENDURES"
by Cindy Bice
Aloha!
I dedicate this message to my Mama.  Her hope never faltered to the day she died.
Have you ever felt like giving up?  You may relate to some degree.  When the odds are stacked against us and there seems to be no way out, don't give up hope!   You never know what you can go through until you go through it.
Remember, Jesus is with you and He is our blessed hope!
The Lord cares about every detail of your life!  Allow Him to wrap His loving arms around you and hold you through every storm. Keep your focus on Him not the storm.
Psalms 121 "I will lift up mine eyes unto the hills, from whence cometh my help…"
In spite of Mama going for her regular check-ups, she was diagnosed with breast cancer.  By then it was metastatic.  I was devastated.  My brother, sister, and I cared for her as she went through chemo.  It was hard for all of us seeing our once strong and independent Mom in constant pain slowly slipping away before our very eyes.
Even in her frailty, 3 weeks before her death she played and sang one of her beautiful anthems to the glory of God. The whole time she battled cancer her faith was in God.  Her hope endured through all her suffering.  At 63, she went on to be with the Lord remaining hopeful in Him.
Don't become cynical when God doesn't answer when and how you want him to. Choose to continue being hopeful in Him knowing He is the beginning and the end in life and in death.
Being Hope Full is not just a positive attitude.  Being HOPEFUL is faith trusting in a living God who knows and cares about us no matter what.
As long as you're alive, God has a plan and a purpose for your life. You can't quite living til the day you die.  Each day with each breath hope in the Lord!
Be blessed by this incredible video sung by Natalie Grant, "Our Hope Endures!"  It's powerful! I watched and sang along with it a few times. Let the Lord fill your heart with hope.
"Emmanuel, God is with us!  El Shaddai, All sufficient! You never walk alone!  He is our Hope!  Our Hope Endures!"
SONG: Natalie Grant "Our Hope Endures" https://www.youtube.com/watch?v=dl2ogefMInQ
PICTURE:  Picture taken in my backyard.
Mahalo,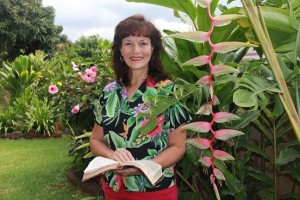 "TIMES OF REFRESHING" Garden Bible Study in Hawaii
Please contact me via my Facebook for more information: