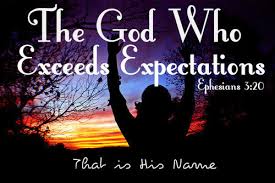 Opening Scripture:  
Eph 3:20-21 MEV "Now to Him who is able to do exceedingly abundantly beyond all that we ask or imagine, according to the power that works in us, 21 to Him be the glory in the church and in Christ Jesus throughout all generations, forever and ever. Amen."
God is able to exceed our expectations if we are willing to trust and obey.
James 1:6-8 MEV " But let him ask in faith, without wavering. For he who wavers is like a wave of the sea, driven and tossed with the wind. 7 Let not that man think that he will receive anything from the Lord.8 A double-minded man is unstable in all his ways."
Have faith in God…Mk 11:22
Nothing is too hard for the Lord…Jer 32:17
Don't let anything limit your faith or what God wants to do in your life.
Ps 78:40 NKJV "How often they provoked Him in the wilderness, And grieved Him in the desert! 41 Yes, again and again they tempted God, And limited the Holy One of Israel. 42 They did not remember His power: The day when He redeemed them from the enemy"
Let go of whatever is holding you back…
Don't allow yourself to make excuses for what you know God is saying to your heart…
Be willing to interrupt your routine for God…
Rebuilding altars by answering our call to prayer is the #1 way to avoid limiting God and prepare for exceeding expectations.
1 Kings 18:30 MEV  "Elijah said to all the people, "Come near to me." And all the people came near to him. And he repaired the altar of the Lord that was broken down."
Solomon rebuilt not only an altar, but an entire temple for the worship of God, and God exceeded His expectations.
2 Chron 7:1-3 MEV "And when Solomon finished praying, fire came down from the heavens and consumed the burnt offering and sacrifices, and the glory of the Lord filled the temple. 2 And the priests were not able to enter into the house of the Lord, for the glory of the Lord filled the Lord's house. 3 And all the sons of Israel saw when the fire came down and the glory of the Lord came on the temple, and they bowed their faces low to the ground on the pavement, and they worshipped confessing, "The Lord is good, and His mercy endures forever."
Following the dedication of the Temple, God spoke and gave the people a plan for always having their prayers answered, their sins forgiven, and their land healed.
2 Chron 7:14 MEV " if My people who are called by My name will humble themselves, and pray and seek My face, and turn from their wicked ways, then I will hear from heaven, and will forgive their sin and heal their land. 15 Now My eyes will be open and My ears attentive to prayer made in this place."
A. Humility – Must first humble ourselves. Too much pride.
B. Prayer – Placing our dependence on God
C. Seek His face, not his hand – Desire a personal relationship, not what He can do. Matt. 6:33
D. Turn from our wicked ways – We all have wicked ways we have grown comfortable with…what wicked ways are we willing to turn from in order to be a holy people?
E. Then God will hear, forgive, and heal – Answered prayer is always in response to faith and obedience.
F. God's eyes open and ears attentive – Keep doing what keeps you in the King's presence.
Exceeding Expectations begins with trusting the only one who can exceed your expectations, and His name is Jesus Christ.
gwb