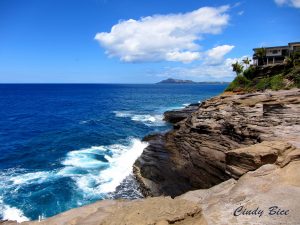 "BUILD YOUR HOUSE ON THE ROCK"
by Cindy Bice
Aloha!
We live in troubled times.  The foundation of our society is crumbling. Its fabric is fraying and coming apart at the seams. Now is not the time to sit in a corner and twiddle our thumbs while our once wonderful and Godly Nation is falling apart right before our eyes.
I implore you to stand up for Jesus.  There may come a time when we can't.
This is not a doom and gloom message.  It is, however, a message of HOPE IN JESUS WHO IS THE ROCK OF OUR SALVATION. He is our eternal hope and it's in Him we trust now and forever.
Sometimes I feel like carrying a sign that says, "THE END IS NEAR!"
How sure is your foundation?  Have you been going through the motions of being a "Christian?"  Do you know what you believe and why?  Do you know Jesus personally? Are you a hearer and a doer of the Word? Are you walking in a right relationship with Him?
NOW is the time to turn your heart fully to the Lord and follow Him.
Build your faith and life on the impenetrable and immovable Rock, Christ Jesus!
Matthew 7:24-27 (ESV) "EVERYONE THEN WHO HEARS THESE WORDS OF MINE AND DOES THEM WILL BE LIKE A WISE MAN WHO BUILT HIS HOUSE ON THE ROCK.  And the rain fell, and the floods came, and the winds blew and beat on that house, but it did not fall, because it had been founded on the ROCK.  And everyone who hears these words of mine and does not do them will be like a foolish man who built his house on the sand.  And the rain fell, and the floods came, and the winds blew and beat against that house, and it fell, and great was the fall of it."
I challenge you to STAND on the ROCK, CHRIST JESUS.
READ the Good news! PRAY at all times! PRAISE continually!
Although we live in troubled times, the Lord is our sure foundation!  He is the Solid Rock of our Faith!  The storms will rage, but the Lord is the anchor to our souls.  Hope in God!  He is Immanuel, God with us!
Now is the time to diligently seek the Lord and pray for our nation and its leaders.  Don't be discouraged with negative news.  Be encouraged knowing God is with us!
Encourage yourself in the Lord.  He is our Hope!  Maranatha!
The song clip is a message all by itself!  Be blessed with the beautiful pictures, scriptures, and affirming song, "On Christ the solid rock I stand.  All other ground is sinking sand."
SONG: Avalon, "On Christ the Solid Rock I Stand" https://www.youtube.com/watch?v=NM7vodGhOaE
PICTURE:  I took this picture, "House on the Rock," at Spitting Caves on Oahu
Mahalo,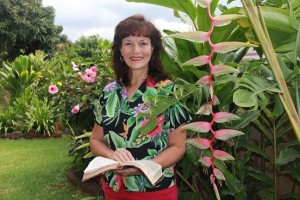 "TIMES OF REFRESHING" Garden Bible Study in Hawaii
Please contact me via my Facebook for more information: