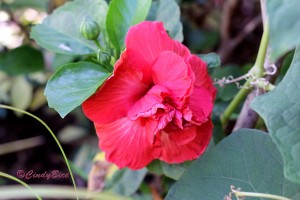 WHEN GOD SPEAKS – COME
Aloha!
When you hear the Lord calling, run into His everlasting arms!
When you are in love, you are all consumed with your future husband.  You think about him continually.  Your heart pounds at the whisper of his voice.  Just standing beside him gives you jelly legs.  Yes, I had it bad.  Still do.  My husband doesn't have a singing voice, but every time he called me, his voice was music to my ears.  We've now been married for 32 years and I still love my husband with my whole heart.  The desire of my heart is to glorify God in all my life and to honor my husband.
Song of Solomon 2:10 NIV "My beloved spoke and said to me, "Arise, my darling, my beautiful one, come with me."
The Bible is the word of God.  It is God's love letter to us.  You can see His passion for the Bride of Christ by reading Song of Solomon.
The Lord is calling His Bride (the church) to COME.  He's calling us individually and corporately.  We have a choice to make.  Are we going to turn a deaf ear and harden our hearts against the Lord?
Let's choose to listen and respond to His call in our hearts and lives.  Choose to accept and embrace the Lord in all of your life.
He yearns for our fellowship with Him.  If we could grasp His wonderful love for us, we would pursue Him with relentless passion. God completes us.  We are created with a void that only He can fill.  Nothing else will satisfy.
Col 2:10 "And ye are complete in him, which is the head of all principality and power:"
The next time God speaks to your heart and says, "Come," I hope you take time to come to Him. Pray, praise, worship, and seek the Lord by reading the word.
Matthew 11:28-29 (NIV) "Come to me, all you who are weary and burdened, and I will give you rest.  Take my yoke upon you and learn from me, for I am gentle and humble in heart, and you will find rest for your souls."
Don't dilly dally or drag your feet.  When God speaks, COME.
"Like a bride waiting for her groom, we'll be a church ready for You.  Every heart longing for our King, we sing even so come Lord Jesus, come." Kristian Stanfill
PICTURE: Ruffled Hibiscus in my Garden
SONG:  Kristian Stanfill, "Passion – Even So Come (Live)"
https://www.youtube.com/watch?v=2jwj6-QmmMA
Mahalo,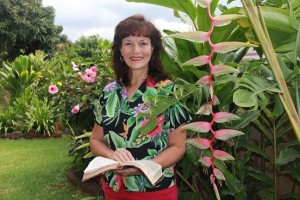 "TIMES OF REFRESHING" Garden Bible Study in Hawaii
Please contact me via my Facebook for more information: