TAKE COURAGE
"Courage is contagious. When a brave man takes a stand, the spines of others are often stiffened."  Billy Graham
Aloha!
Some of us were afraid of monsters or boogy bears in our closets when we were young. It's easy to let your imagination run wild and everything gets scarier and scarier!  My parents assured me there wasn't anything under my bed or in my closets; but I was still afraid.
I remember my sister and I were swimming in the river and a snake was swimming towards us and she literally had to push me up the ladder to get out of the water I was so scared.  Fear can paralyze you.  If you let your imagination go, fear can cripple you and prevent you from living a fun filled life full of faith.
"Fears can never be outpaced or outdone, they must be faced and defeated with courage."
Did the incident with the snake in the water prevent me from getting back in the river? No!  We went water skiing and had many fun times swimming in the river.  I fell off a horse one time and it knocked the breath out of me.  I got back on and went for a ride.  A Cindy quote, "You rule fear.  It doesn't rule you."
When we allow fear to open the door to worry, we quite possibly, are missing opportunities, dreams and the life God has for us.  God calls us to courage.  God wants us to live by faith.
By trying to avoid the things we're afraid of, we actually are letting those fears hold us captive!  We face our fears with COURAGE.  We conquer the monsters in our lives with prayer.  Being a Christian made all the difference for me.  Praying the scriptures and trusting God allowed me to live life not without fear, but in conquering it whenever it would show its ugly face.
David encouraged himself in the Lord.  His confidence was in the Lord.  "Instead of allowing fear to get the best of him.  David chose to dwell in God's presence and pursue God as his salvation and stronghold.  For when we seek God's face, and choose to dwell in His presence, we can rest in safety."
Psalm 3:8 "I will both lay me down in peace and sleep; for thou, Lord, only makest me dwell in safety."
1 John 4:18 "There is no fear in love; but perfect love casts out fear."
Psalm 118:6 "The Lord is on my side; I will not fear:  what can man do unto me?"
Psalm 16:8 "I keep my eyes always on the Lord.  With Him at my right hand, I will not be shaken."
Song:  Jamie Owens Collins, Maranatha "Hearts Courageous" https://www.youtube.com/watch?v=aKYNmU4EiuI
Mahalo,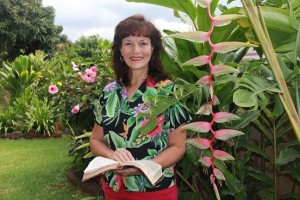 "TIMES OF REFRESHING" Garden Bible Study in Hawaii
Please contact me via my Facebook for more information: