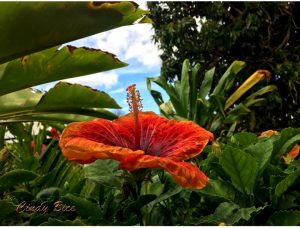 WELL DONE!
by Cindy Bice
Aloha!
When my time comes to go home, I want to hear my heavenly Father say, "…well done…"
Matthew 25:21 (NKJV) "His lord said to him, 'Well done, good and faithful servant; you were faithful over a few things, I will make you ruler over many things.  Enter into the joy of your lord.'
I used to ask my parents, "Are we there yet?" I'm here to tell you that until the Lord calls us home, we aren't there yet.  In the meantime, we must run the race that's before us and keep the faith! Before you can run, you take steps.  As you get stronger, take more steps and pick up the pace.  Eventually, you will be healthier and vibrant. Everyone wants a better quality of life.  Let's get going!
The feeling you get when you've finished a project you've worked very hard on is so satisfying and rewarding! I'm excited, relieved, and exhausted.  This renovation only took two months of very long days. Taking something old, neglected, and abused and transforming it into happy, warm, and inviting, was exhilarating! I will have a brief rest and then on to the next project! I have a get-her-done mentality!
We are a lump of clay on the Potter's Wheel.  God changes us from glory to glory and transforms us by His word.  He takes out the hard and stony heart and gives us a healthy heart that beats in time with His! If your heart has become cold and hard, let God's love pour into every area as He takes you just as you are and transforms you with His word. His Holy Spirit will revive you.  Before you know it, you will be strengthened, renewed, and ready to run the race God has for you!
Isaiah 64:8 (NIV) "Yet you, Lord, are our Father. We are the clay, you are the potter; we are all the work of your hand."
Most of us feel like the caterpillar that wants to be beautiful, but first it must use its muscles to be strong enough to break free of the chrysalis, spread its wings, and fly.  Go ahead and strengthen your muscles.  Do what you need to do to get the job done and then you will not only finish, but you will be strong and ready to take flight into what's next.
In the end, don't you want to hear the Father say, "Well done?!"  It may be time to get back up and start again afresh and anew today.  Do you want to soar like an eagle? You must climb out of your pit to strengthen your muscles and do what God has put before you to do and before you know it, you will soar!
2 Timothy 4:7 (NKJV) "I have fought the good fight, I have finished the race, I have kept the faith."
Romans 12:2 (KJV) "And be not conformed to this world:  but be ye transformed by the renewing of your mind, that ye may prove what is that good, and acceptable, and perfect, will of God."
SONG: Natalie Grant – Breath on me, I need Thee every hour https://www.youtube.com/watch?v=Oe3Xxw91sgE
PICTURE:  My favorite Hibiscus in my garden
Mahalo,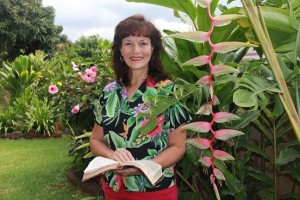 "TIMES OF REFRESHING" Garden Bible Study in Hawaii
Please contact me via my Facebook for more information: