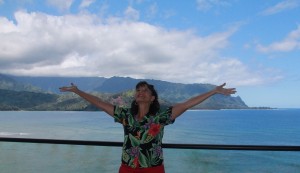 SARAH'S ECHOING LAUGHTER
Aloha!
"Even when it seems all hope is gone, we can still choose to trust God.  Nothing is too hard for the Lord."
After walking through the Princeville Resort in Kauai, I stepped onto the Lanai and was blown away with the incredibly gorgeous panoramic vistas that I beheld!  God's creation is magnificent! From the depths of my being, I began to sing, "HOW BIG IS GOD?!" When I stopped singing, guests who were also enjoying the view, asked me to keep singing because that's how they felt too!
We don't always feel like singing.  Actually, sometimes we may feel like crying, screaming, or in Sarah's case, laughing. When God tells us something, we need to remember to TRUST GOD and know that HIS TIMING IS PERFECT.  God is in control!  HE IS FAITHFUL!
God told Abraham he'd be the father of many nations.  With this promise, Sarah spent many years hoping and praying for a baby.  Over time, she grew old and began to lose hope because she was barren.  Sarah needed a miracle.  God sent messengers to speak to Abraham and she overheard them telling her husband she'd have a son. "Is anything too hard for the Lord?" Sarah laughed.
God's promises are yea and amen!   David continually encouraged himself in the Lord.  "Why art thou cast down oh my soul?  Hope thou in God." What has God promised you?  Place your dreams and hopes in His almighty hands because God is faithful and His timing is perfect.  Look to the Lord who is our hope and the anchor to our souls.  Quit striving!  Start Trusting!  Let God be God! 2 Cor. 1:20, Gen. 18-20, 1 Sam. 30:6, Psalm 42:5
"Only believe, only believe, all things are possible, only believe."
Mahalo,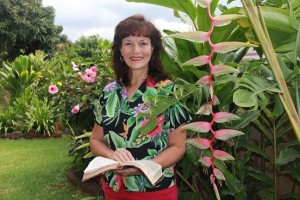 "TIMES OF REFRESHING" Garden Bible Study in Hawaii
Please contact me via my Facebook for more information: