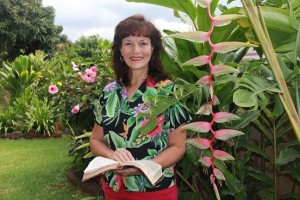 Times of Refreshing #5, Testimony by Cindy Bice
Aloha!
~♥~ Please join with me in Celebrating One Year of "Times of Refreshing," e-votions! ~♥~
After writing weekly e-votionals, based on the "Women of Faith Study Guides," I now write my own e-votions.
♥March 2, 2015.  I began "Times of Refreshing," Home/Garden, Bible Study, weekly e-mail, and Blog.
♥January 2016 Completed 4 Study Guide Books.
♥February 2016 Began writing my own e-votionals.
♥March 1, 2016 Celebrating One Year of "Times of Refreshing," Weekly e-votions!
Great is Thy Faithfulness!  I hope you all remain encouraged and refreshed in the Lord!
I wanted to share how this weekly, e-votional, (Devotional e-mail) started for me.  I continually meet ladies in different places and situations: on the plane, at Sam's, etc. and I am able to invite them to my weekly e-mail bible study.  I briefly tell them about it and share how I want to encourage other women in their faith in God.  It's amazing how many women also desire a closer walk with the Lord.
We all need loving encouragement.  Many are hurting and facing insurmountable odds in their lives.  I also receive personal replies in response to the e-mails that are sent out.  I don't share contact information so the comments are private.  I appreciate and welcome your thoughtful comments!
What desires has God placed in your heart?  What has He called you to do? What has God placed in your hand?  Commit it to the Lord and trust Him completely.  He works outside the box and blesses you back so much more in doing it His way than you could ever imagine!
God gives us the desires of our hearts.  He places them there and then He makes a way for them to come to pass.  Don't let the self-doubts or negative comments from others (or what you may think they think), dissuade you!  God will give you wisdom, open doors, and surround you with favor!  Guard your heart!  Wear your armor!  Keep Jesus the main thing!
I'm an encourager (exhorter), prayer warrior, and worshiper.  When my Pastor asked me to do a Ladies Bible Study last Spring, I told him I'd pray about it.  I've been involved in ladies bible studies for years.  I've been the worship leader, Assistant to a leader, etc.  I prayed and sought the Lord and talked with my husband. Basically, the Lord told me that if I did it, He would take care of me and the details.  I was instructed to find a study guide and was initially challenged in finding one that was brief and in a format I liked for the way I desired to do the study.
After researching and praying, I was shopping at Sam's Club and decided to look at their books.  There were 4 different Women of Faith Study Guides.  I bought them on a Friday and presented them to my Pastor on a Saturday.  She loved them!  I made an announcement at church on Sunday and started the meetings at my house on Tuesday, March 2'nd.  But for the grace of God go I!
My heart's desire is to encourage women in their faith and walk with the Lord; and to refresh and renew them in their spirit.  The study is to, not add one more thing on their already full plate, but rather, be a moment just for them to be blessed, refreshed, and renewed.  Sort of like a spiritual spa.
I enjoy photography and wanted to share a different picture with each message.  At some point, I may put pictures from the mainland, but for now I'm sharing Hawaii pics.  I try to post a picture that goes with the message.  There is such a variety of music to choose from on you tube!  I try to find a song that I believe will be a blessing.  Again, my heart is to draw women closer to the Lord.
The studies have been a wonderful devotion for me in my private walk with the Lord.  Doing the weekly e-mails has come from my own devotion to the Lord.  There's also a deadline to be accountable to send it out.  Most of the ladies here in Hawaii work or have little ones and weren't able to come. After inviting ladies to the bible study, I had many ladies tell me they'd like to come but couldn't.
I've been writing the emails of the messages from the start.  Thus, e-votionals.  Many have told me they were sharing with their husbands, friends, and families.  What a blessing it is to share Jesus!
I never stop praying!  I played my guitar and autoharp at my home bible studies sharing a worship song. I'm only doing the online bible study now.  Worship comes through in sharing a song with each study.  Sort of like "Dinner and a Movie," I have a "Picture and a Song." There were many Bible studies when no one came.  I would take that time to worship the Lord and sometimes take pictures in my back yard. Before I quit having them at home, I only had 1 or 2 ladies coming and the fellowship was so sweet and the time we shared was precious.  I'm thankful for those precious "Times of Refreshing!"
Thankfully, my Pastor has been very supportive.  There's an insert included in the Sunday bulletin of my weekly Devotions with a picture.
My brother has been very supportive!  He was so excited when I told him about the studies that he offered to make me a blog on his web site from the start!  You can check it out and see all my past devotions.  georgewblack.com
The studies and sharing via e-mail have been a very growing experience for me.  I know that being a teacher of the Bible raises us to a greater accountability for what we teach.  Because of this, I'm very humbled and continually desire to lift Jesus up.  The study has been a conduit and a means to share Jesus.  I'm also challenged to continue growing deeper in my commitment to the Lord in this new endeavor.
Numbers 6:24-26 (NKJV) "The Lord bless you and keep you;  The Lord make His face shine upon you, And be gracious to you;  The Lord lift up His countenance upon you, And give you peace."
2 Peter 3:18 (NIV) "But grow in the grace and knowledge of our Lord and Savior Jesus Christ.  To him be glory both now and forever!  Amen."
Jude 24-25 (KJV) "Now unto him that is able to keep you from falling, and to present you faultless before the presence of his glory with exceeding joy, to the only wise God our Savior, be glory and majesty, dominion and power, both now and ever. Amen."
I'm so thankful to the Lord for what He's done, is doing and will do!  God is Faithful!
God bless you in all your endeavors as you take up your cross and follow Jesus every day!!!
CREDITS: My Lord and Savior, Jesus Christ; and my family
PICTURE: The first picture for the T.O.R. Bible Study taken in my beautiful, tropical, back yard.
SONG:  Marty Nystrom, "Times of refreshing" https://www.youtube.com/watch?v=MMbDzb6fsu4
Mahalo,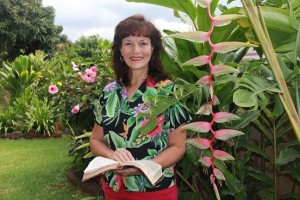 "TIMES OF REFRESHING" Garden Bible Study in Hawaii
Please contact me via my Facebook for more information: