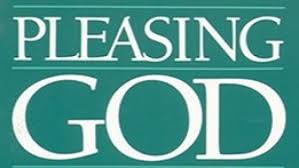 Facebook Notes – Your real-time comments on each point appreciated. www.facebook.com/GoRejoiceChurch
Opening Scripture:  Hebrews 11:5-6 NLT 
"It was by faith that Enoch was taken up to heaven without dying—"he disappeared, because God took him." For before he was taken up, he was known as a person who pleased God.
6 And it is impossible to please God without faith. Anyone who wants to come to him must believe that God exists and that he rewards those who sincerely seek him."
1. BEGINNINGS. We all begin the Christian life with the desire to please God. This is always the instinct of a child with its parent.
2 Cor 5:17 NLT "This means that anyone who belongs to Christ has become a new person. The old life is gone; a new life has begun!"
Matt 3:17 NKJV "This is my beloved Son in whom I am well pleased."
2. FAITH. To continue in a life that pleases God we must learn the ways of faith.
Heb 11:1 NLT "Faith is the confidence that what we hope for will actually happen; it gives us assurance about things we cannot see."
3. OBEDIENCE. Abraham pleased God through action. His faith went beyond mental belief to an actionable belief. He obeyed God with action.
Heb 11:8 NLT "It was by faith that Abraham obeyed when God called him to leave home and go to another land that God would give him as his inheritance. He went without knowing where he was going."
4. TRUST. In order to live a life of faith, we must choose to trust God more than we trust anything or anyone.
Heb 11:7 NLT "It was by faith that Noah built a large boat to save his family from the flood."
Heb 11:17 NLT "It was by faith that Abraham offered Isaac as a sacrifice when God was testing him."
Heb 11:29 NLT "It was by faith that the people of Israel went right through the Red Sea as though they were on dry ground."
Heb 11:30 NLT "It was by faith that the people of Israel marched around Jericho for seven days, and the walls came crashing down."
Heb 11:33-34 "By faith these people overthrew kingdoms, ruled with justice, and received what God had promised them. They shut the mouths of lions,34 quenched the flames of fire, and escaped death by the edge of the sword. Their weakness was turned to strength. They became strong in battle and put whole armies to flight."
5. DECISION. At some point we must stop giving God our excuses and start giving Him our faith. Faith is a decision. So is unbelief.
Jn 20:24-29 NLT "Now Thomas, called the Twin, one of the twelve, was not with them when Jesus came. 25 The other disciples therefore said to him, "We have seen the Lord." "So he said to them, "Unless I see in His hands the print of the nails, and put my finger into the print of the nails, and put my hand into His side, I will not believe."
26 And after eight days His disciples were again inside, and Thomas with them. Jesus came, the doors being shut, and stood in the midst, and said, "Peace to you!" 27 Then He said to Thomas, "Reach your finger here, and look at My hands; and reach your hand here, and put it into My side. Do not be unbelieving, but believing."
28 And Thomas answered and said to Him, "My Lord and my God!"
29 Jesus said to him, "Thomas, because you have seen Me, you have believed. Blessed are those who have not seen and yet have believed."
6. If you are ready for your life to be fully pleasing to God again, understand that Christ by His Spirit will do the work in your heart, but you must give Him permission.
Heb 11:6 "And without faith it is impossible to please God, for he who comes to God must believe that He exists and that He is a rewarder of those who diligently seek Him."
GWB