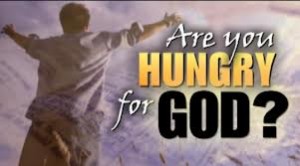 Hunger is an incredible motivator. I know if I start craving Mexican food, it won't be long until I show up at a Mexican restaurant, or Taco Bell (semi-feeds the need lol), or I will ask Cathy to do her amazing Tex-Mex "whatever", which is all great.
Are you hungry for God? I mean really, are you hungry for His glory – His tangible presence in your life, or is a snack on Sunday morning all you need each week?
I believe hungry people show up for what they are hungry for. When people are hungry for God, really hungry for God, nothing else will satisfy.
Jesus said if we are hungry for God, He will fill us. (Matt 5:6)
This Sunday Aug 17-24 begins our bi-annual prayer and revival week at Rejoice Church, with nightly services. We call it Rebuilding The Altars, and this years theme is "Reaching Escape Velocity." I have been thinking a lot about what draws a person to something like this, and why some are not interested.
Perhaps the reason so many are not hungry for God (and why there have been times I was not hungry for God) is because we are already full of something else.
A scientific principle is that a vacuum always fills itself. A light bulb holds a filament inside a vacuum, allowing it to burn brightly for long periods of time. But crack the light bulb and the atmosphere rushes in and the filament immediately burns out. A submarine can dive to great depths while maintaining a vacuum relative to the outside ocean pressure. But if the hull of the submarine fails, the immense weight of the water outside will crush the submarine as it rushes in to fill the vacuum.
Another way of looking at a vacuum filling itself is when we are hungry, we eat. No more "vacuum."
My wife is so funny. Sometimes when I ask her what she wants to eat she has said, "doesn't matter…when we are full we won't be hungry anymore." Cathy is amazingly practical, and I try never to take that for granted.
Spiritual hunger is meant to create a vacuum that God comes in and fills. However if we have already filled up on what the world offers…busyness, so many cares of this life, tons of entertainment sources, an endless list of movie channels, sports channels, food channels, and a lot of good-but-not-godly filler, it is no wonder so many people have no hunger for God. And with all our mobile devices, we are never without the filler.
Jesus said "but all too quickly the message is crowded out by the worries of this life, the lure of wealth, and the desire for other things, so no fruit is produced." Mk 4:19 NLT
My wife Cathy has always tried to make dinner a family affair. Even now with the kids all grown and gone, it is important to her that we have dinner together. I love this. Sometimes with our still very hectic schedule it is a very late dinner. But we always have dinner together when possible.
There have been various times when I was really hungry before coming home for dinner, and I have stopped at a convenience store to fill up on junk food. Maybe it was a coke with peanuts (you have to be from the South), or an especially big temptation for me is Zingers, a raspberry and coconut crème-filled snack cake like a Twinkie…only better.
The problem is that when I got home and sat down for dinner, I was no longer hungry for Cathy's good food. (Is anyone getting a sermon?) Junk food had taken the place that good food was supposed to fill.
This is the problem with much of modern America today. We are so full of "junk food", we are no longer really hungry for God.
THANK GOD THERE IS A SOLUTION!
One of the secrets to being hungry for God is learning to do our "push-aways."
A big problem in the South is we want our guests to pile on the food, then go back for seconds. That has always been a part of hospitality in our Southern culture as far back as I can remember. The problem in our over-weight world today is we need to learn to do our "push-aways" after the first helping, and push away from the table before seconds. (I am preaching to myself ya'll.)
The same is true with all the distractions of this life.
Learn to do your "push-aways" from the world so you don't end up immersing yourself in a fruitless and unholy life.
When you unplug from the world, turn off the television and put down the mobile device, you are creating a "vacuum", a space in time, that God wants to fill.
It takes time to be holy, and holiness attracts the glory, because they are inseparably intertwined. Have we forgotten the call to holy living? Remember that The Helper's first name is "Holy", as in Holy Spirit.
Look up the word "holy" and you will be amazed how many times it is used in the New Testament, under grace.
2 Pet 3:11-25a "Since everything around us is going to be destroyed like this, what holy and godly lives you should live, 12 looking forward to the day of God and hurrying it along."
If you are hungry for God, you can stay hungry by always making room in your schedule for God to fill your life. Stop run, run, running, without running to God. Priorities are not wishful thinking…they are what we actually do.
If you are not hungry for God, but you want to be, start doing your "push-aways" today. Rebuilding The Altars week is a prime opportunity. The more you push away from the worlds table, the more of a vacuum you will create for God to come in and fill.
Here is the beautiful thing about being filled with God instead of the world…when you let God satisfy the hunger in your life, the hunger for the things of this world disappear.
Jn 6:35 NLT "Jesus replied, "I am the bread of life. Whoever comes to me will never be hungry again. Whoever believes in me will never be thirsty."
Are you hungry for God? Are you really?
Hungry people show up for what they are hungry for.
George W Black