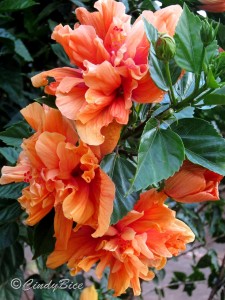 WHEN GOD SPEAKS – WORSHIP
Aloha!
I love to praise and worship the Lord with all my heart!  Even when I'm in a room filled with people, it's just me and Jesus when I worship Him!  He's worthy!
We are created for His pleasure!  God created us to fellowship with Him.  There is an unmatched satisfaction to the depths of your soul when Jesus is truly Lord of your life!
Revelation 4:11 "Thou art worthy, O Lord, to receive glory and honor and power:  for thou hast created all things, and for thy pleasure they were created."
True, heart felt, worship comes from a humble heart reverencing, honoring, and adoring the Lord.  You are actually bowing before God esteeming Him as Lord.
"Worship" (shachah) in Hebrew, means to bow down. "Worship" (proskuneo) in Greek, means to fall or bow down before the Lord.
Most church services begin with "Praise" songs and then sing "Worship" songs.  You can tell a difference in the words that are sung and the attitude of the people when praising and worshiping.
Psalm 95:6 (NKJV) "Oh come, let us worship and bow down; Let us kneel before the Lord our Maker."
Psalm 96:9 (NIV) "Worship the Lord in the splendor of his holiness; tremble before him, all the earth."
Worship is not just singing a song, but it's a heartfelt attitude coming from deep within that affects your whole life. You can live a life of worship. Songs of worship are a mere overflow from a heart of worship expressing loving adoration of our almighty, omnipotent, and holy God.
John 4:24 (NLT) "God is Spirit, so those who worship him must worship in spirit and in truth."
One day I was washing dishes and looking out of our kitchen window at the beautiful Kuliouou Valley.  My heart welled up in song and I began to worship the Lord.  He gave me a beautiful worship song for Him.  The presence of the Lord cannot be adequately described.  You must experience it.
I invite you to take time to praise and worship the Lord simply because He's worthy!
SONG: Lenny LeBlanc and Greg Gulley "No Higher Calling New Version"
https://www.youtube.com/watch?v=4FRATV6WHGE (This is the way I sing it)
PICTURE: Double Ruffled Hibiscus in my Garden
Mahalo,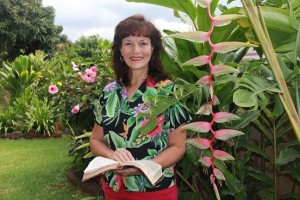 "TIMES OF REFRESHING" Garden Bible Study in Hawaii
Please contact me via my Facebook for more information: