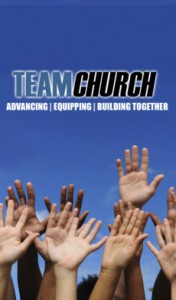 "So Christ himself gave the apostles, the prophets, the evangelists, the pastors and teachers, 12 to equip his people for works of service, so that the body of Christ may be built up" Eph 4:11-12
TEAM = Teaching Everyone About Ministry
Hey church leaders, when you accept an invitation to lead a ministry in your local church, be willing to meet with and receive training and mentoring from your pastors. It's their job to help equip you to be successful, and teach you how your ministry fits into the blueprint God has for the whole church. They have yours AND the church's best interests at heart.
Leading other people under Christ is a great responsibility, and must be accompanied with great humility in order that Christ to be glorified, the flesh mortified, and the devil horrified. Humble yourself so that grace can flow to the low place.
Teaching everyone about how to work together in ministry is the only way for the local church to be a team that wins.
With a TEAM, you can reach your DREAM.
George W Black