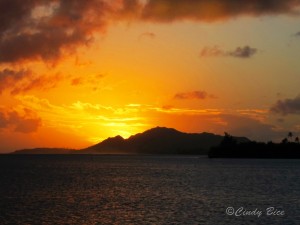 A TIME FOR NECESSARY ENDINGS
Aloha!
Ecclesiastes 3:2  "A time to die."
"We all have moments in our lives when we sense God calling us to leave something behind in order to lay hold of the something new God has for us."
It's beautiful to watch a Hawaiian sunset!  The sun is high in the sky and so bright you can hardly look at it.  As it goes down slowly disappearing into the ocean, the sky fills with cotton candy colors that soon become incredibly vibrant!  With the sun gone, the once bright sky, changes to darkness.  The setting sun marks the end of the day.
Tomorrow the sun will rise again and we will begin a new day.
Life is full of change.  Similarly to the changing seasons, life also changes.  It's necessary and good, yet there's something inside us that wants to hold on to the familiar.  We need to let go and trust God as we reach forward to what's ahead.
Sometimes an ending may be a job change.  You may need to move locations or do a different job.  We've lived in the suburbs, in the country, and now live on an island.  Each move wasn't always easy.
Letting go of the familiar can be challenging, but is necessary in transitioning to what's next.
There are other endings in our lives.  We may need to forgive others for wrongs done in the past.  We may have some bad habits that need to come to an end. As we let these things come to an end, we will find freedom in the Lord!
The disciples had to leave what was familiar in order to fully follow Jesus.  Levi, known as Matthew, had a good job and a very good income.  He was a tax collector.  He responded to the call of the Lord on his life in a very positive way.  Luke 5:27-28 "After this, Jesus went out and saw a tax collector by the name of Levi sitting at his tax booth. "Follow me," Jesus said to him, and Levi got up, left everything and followed him."
It takes both hands to fully apprehend the Lord:  You can't have one hand holding on to the familiar and one on the Lord. Let go of what's holding you back, and let God have His way in your life.  God's grace is sufficient. 2 Corinthians 12:9 "My grace is sufficient for you, for my power is made perfect in weakness."
Song:  "Your grace still amazes me" Phillips, Craig, and Dean https://www.youtube.com/watch?v=fXVUYC_ykwE
"Times of Refreshing," BLOG:  georgewblack.com
Mahalo,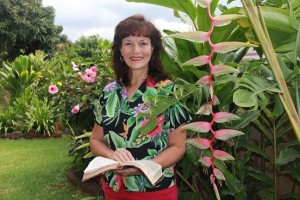 "TIMES OF REFRESHING" Garden Bible Study in Hawaii
Please contact me via my Facebook for more information: